Hey ladies... I'm tickled pink for a shout-out as one of your favs! Thanks!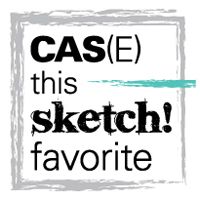 I hope everyone enjoyed a lovely Easter weekend.
This year we skipped the traditional turkey in favor of slow roasted BBQ ribs, a nice plump oven roasted chicken, a few salads, bbq potatoes and pumpkin pie! Yuuuuummmy!
Awesome sketch this week at CAS(E) This Sketch. As usual, the DT rocked it with their awesome creations! So many innovative ideas!
I'm also entering this card into the current Simply Create Too - Anything Goes Challenge #82 and Addicted to Stamps #139 - CAS.
A happy face popped into my head so I ran with it! I tweaked a Silhouette cut file to create my smiley elements and the top aperture panel, which is popped up with foam tape to create a recessed area for the smiley faces. Nice depth in real life.
I've finished off the 'happy, happy....' with a big, bold 'birthday' on the inside.
There is still a bit of time to get your entry in, so you best get crackin'.
Thanks so much for stopping by!
Happy crafting :)