Hip Hip Hooray!
Guess who is celebrating a birthday today?
It's our sweet, kind, talented, delightful, dear friend Bev from

Happy Dance !!!
A special place in her heart
That will make your heart glow!
So let's raise up our ink pads
Birthday wishes we'll send
Don't you all just love this sweet lady to bits? She entertains us with her witty posts and fabulous blogland birthday parties, delights us with her sense of humor, dazzles us with her mad card making skills and warms our hearts with her kind and caring soul.
AND...she navigates ca-razy busy freeways with the ease of a race car driver (ask me how I know!)
Wishing you a happy, happy day filled with lots of cake & ice cream and uninterrupted craft room time!
I colored the CB
butterfly with Copics, winked it up with Stella and popped it up with some dimensional squares. I love how the 'swirly' parts of the SU sentiment mimic the swirls of the butterfly's antennae! The photo below shows a bit of the real life glimmer and dimension: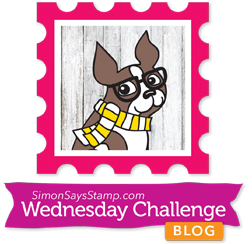 Thanks and for stopping by. Happy crafting!